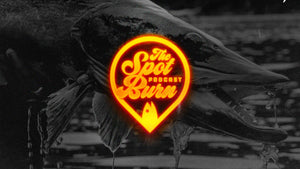 Season 1, Episode 1
The one that started it all
Available wherever you watch or listen to podcasts!
Season 1, Episode 2
The one about musky myths
Is fly fishing for musky new? Is it harder than conventional angling? Is it only for rivers? We will bust these myths and more on our second episode!
Season 1, Episode 3
The one about musky spring training
Why is march one of the most underrated months for fishing in Wisconsin? What to do if you catch an accidental musky?
Found on YouTube and wherever you listen to podcasts! Join your hosts Dan Donovan and Josh Smeltzer as we spot burn everything BUT fishing spots!
Sponsored by Cortland Line Company and Stealthcraft Boats!
Submit a Request for The Spot Burn Podcast
Want to see someone special on the podcast or have a specific question you want to see us discuss? Drop us a note!